When you're marketing online it is important that you keep up with the latest developments and trends.
Knowing what's working Right Now on the different platforms is paramount.
Otherwise you might be spending all day, working hard to 'master' one method – only to find out you're doing it all wrong.
Or worse, learn that you're method is now out-dated and you need to learn your strategy all over again.
Which is exactly why I LOVE these simple up-to-date infographics!
A perfect way of sharing what's working now, in an easy-to-digest form.
(See entire infographic at the bottom)

If you're looking for an easy way to find proven viral posts for Facebook, Twitter and Instagram – to boost your engagement by up to 650% I recommend Post Planner:
FIND OUT MORE HERE
10 Crazy Social Media Facts that Are ACTUALLY True
Some of these are really surprising!
1. Your Biggest Advocates have the Fewest Followers on Twitter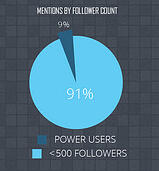 You might think that going after users with large followings could help your brand.
But actually 91% of mentions on Twitter are made by users with fewer than 500 followers.
This surprised me a lot! So focus on the Twitter users with fewer followers.
2. Twitter has 6 Distinct Communication Networks
Not everyone on Twitter is the same — nor does everyone use it in the same way.
This is very important to know as a brand so you can target your communication properly.
3. Marketers Say Written Content Trumps Visuals
I for one, would have thought this to be true, however according to Social Media Examiner's survey of nearly 3000 marketers, written content resonates the most among marketers.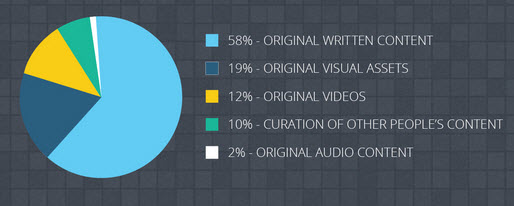 More than half of content marketers say written content is their most important form of social content — not visual content.
As a business this means you need to write more blog posts about your industry to appeal to users.
4. Twitter Users Expect a FAST Response Time
You may think checking your Twitter account once or twice a week is enough.
Not at all!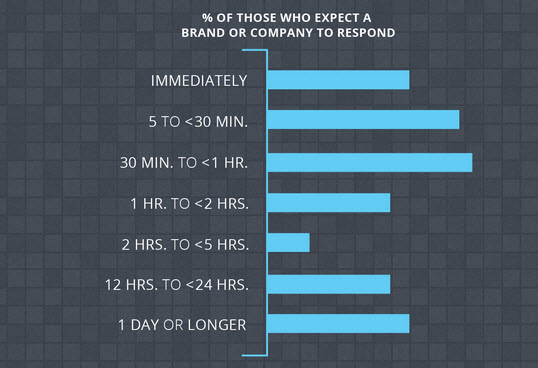 5. Late Night is the Best Time for Retweets
One of the best ways to grow a fan base on Twitter is getting followers to retweet your posts.
It gives you immediate credibility to a new set of followers.
According to this study most retweets occurred late at night. So make sure you're posting late at night!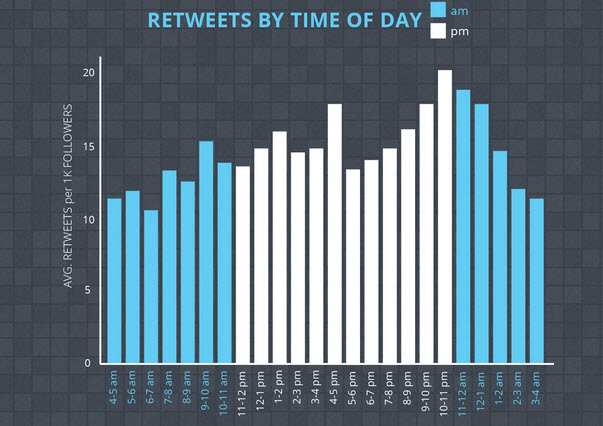 6. Fridays are Facebook's Best Day for Engagement
Engagement is crucial on Facebook! If you're not getting Likes, Comments & Shares, your page will quickly fade away.
Posting quality content is important, and according to this study – MOST important on a Friday!
7. Photos Drive Engagement on Facebook Pages
This is definitely true! For my audience, quote images get the most engagement by far on my page.
What gets the most engagement on your page?
8. Facebook, Pinterest & Twitter Drive the Most Traffic
Engagement on social media is great, but driving traffic (people) to your content and optin pages is MORE important.
You must always be building your list – remember the $ is in the list.
Facebook, Pinterest & Twitter easily drive the most traffic.
9. Aim for 28, 118 or 385 Interactions per Post
This stat comes from a Social Bakers study that showed the average interaction per post based on fan size.
1 to 9,999 fans = average of 28 interactions/post
10,000 to 99,999 fans = average of 118 interactions/post
100,000 to 499,999 fans = average of 385 interactions/post
10. There's a Best Day for Everything on Pinterest
Pinterest revealed which categories get the most engagement on each day of the week.
It's interesting to look at these as it tells you what activities people are doing or thinking about through the week.
You can probably test out these trends for other social media platforms as well…
I know when I go to the gym on a Monday – it is ALWAYS more full than on a Thursday or Friday…

Here is the entire Infographic:
This was from an article published to Fast Company — which is where Mainstreethost saw it and made the graphic based on the blog post.
Knowing facts like these will help you strengthen your social media strategy.
I hope you'll enjoy and get as much value from this infographic as I did. Please like, share and comment below.
If you're looking for a way to boost your engagement on social media, THIS has been proven to do so by up to 650%. I use it myself and absolutely love it: Post Planner
angelaboswellblog.com Internet Marketing Blog
Skype: angela.boswell1
Email: angela@angelaboswellblog.com
"Helping You Build A Successful Business Online!"
Comments
comments